Is that a denim tea-length wrap dress?! Oh my gosh I'll take 5 and wear to it work every day of the week. But everything from Carolina Herrera is amazing. This is from her Resort 2019 collection, and you can browse some additional Caroline Herrera at the link. AND it has pockets, jeesh I'm dyin' over here!
The Duke and Duchess of Sussex arrive with @nachofigueras and his wife @delfinablaquier at the #SentebabeISPSPolo Cup 2018 ? @chrisjacksongetty pic.twitter.com/cAdRqHnDWU

— @Sentebale (@Sentebale) July 26, 2018
It was matched with a surprising affordable J. Crew clutch (Princess Pick = Peasant Pick!):
What makes this look royal
The FABRIC is the "wow" factor
The dress otherwise is very classic with its A-line fit-and-flare cut, midi length, and neutral navy color
Picks for a princess
We can't currently buy the Duchess' amazing denim-but-still-royal (she really is the American princess!) dress, so here are some luxe alternatives.
This belted midi shirt dress for sale at Neiman Marcus emulates the feel of Meghan's dress with its length, belt, pockets, and overall vibe!
This V-neck denim dress by Stella McCartney (yes, of Beatle's family fame if you are wondering!) is another great look again with POCKETS, midi length, and V-neck. Add a belt to this look and you are really in business.
Picks for a peasant
Real talk for a minute. Duchess Meghan wore her dress to watch her husband, the Prince, play polo in a tournament to raise funds for Sentebale, a charity he co-founded to support the mental and physical health of children affected by HIV in Botswana and Lesotho. Talk about the most amazing power couple. I have never been to a polo match but I understand that it involves being stylish, drinking champagne, something about chukkars. As an American commoner wife, the closest I might get is watching my husband play soccer in a rec league. Here are some looks for when I want to be the fancy wife at the game, because let's face it most people are wearing sweat pants and leggings.
This belted wrap knee-length dress at Macy's would be a good option for the sidelines. Its subtle V-neck, belted waist, and fit-and-flare silhouette harken to our goal look.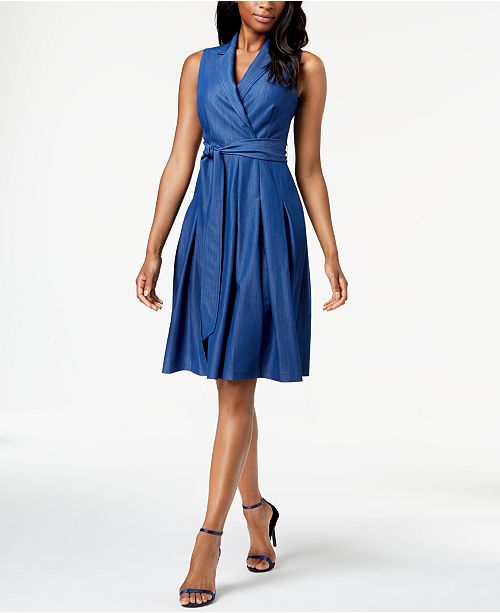 This Oasis ruffle wrap dress adds a ruffle element into the mix. The ruffle may be a little less than royal, but hey, this is a pick for a peasant! Its still adorable, denim, tea-length, and V-neck. I see no reason to not wear this cheering on the spouse at any sporting event.
I know being denim is pretty key to this look, but this dress checks off all the other boxes so I had to throw it in! This dress looks most like the Duchess' at a glance, and would be endlessly flattering and useful to have in your closet!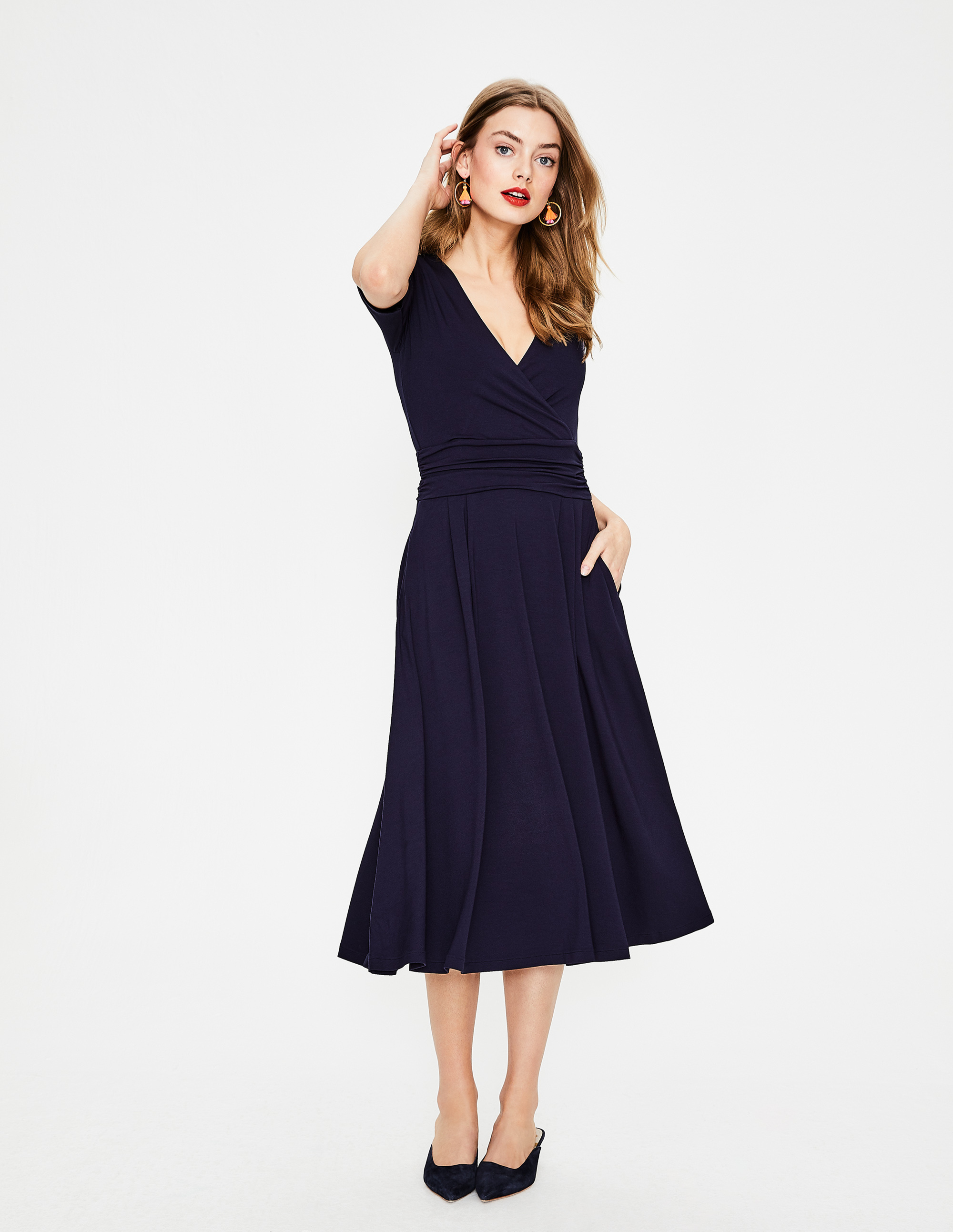 So which dress are you rocking after you convince your significant other to start a charity polo league? Or just to sign up for that rec sport, because sports are good for you I'm told. I'm picking the Boden jersey dress, based on the versatility it would add to my wardrobe. Wear anywhere based on how you style it! The denim ruffle look is a close second, even though ruffles are a tough sell for me.