As the Duke and Duchess tour Ireland, Meghan was seen in this taupe draped dress. What will you wear when you ring a peace bell? I like to think of every bell as a peace bell. Even the one I ring every night to call my family to dinner (I might, you don't know).
The Duke and Duchess of Sussex ring the Peace Bell at Áras an Uachtaráin, designed to mark the 10th anniversary of the Belfast Agreement #RoyalVisitIreland pic.twitter.com/n1N1YXJlmD

— Kensington Palace (@KensingtonRoyal) July 11, 2018
What makes this look royal
The neutral solid color
The below-the-knee length
The front drape (only one detail!)
Picks for a princess
For the true princess look, go right to the source with a Roland Mouret. Even though Meghan's exact dress isn't listed, the silhouette and draping will not disappoint. I would wear every dress that Roland Mouret makes if I had a princess budget. Just every day no matter what I was doing, you would see one. How classy would I look picking tomatoes from the garden? 
Picks for a peasant
Since we do not all have the princess budget, here are some picks that will capture aspects of the look:
To emulate the taupe-green color, below-the-knee length, and a draping detail, try this sleeveless dress from BCBGeneration
If it's the front drape detail that you seek, try this checked dress from Marks & Spencer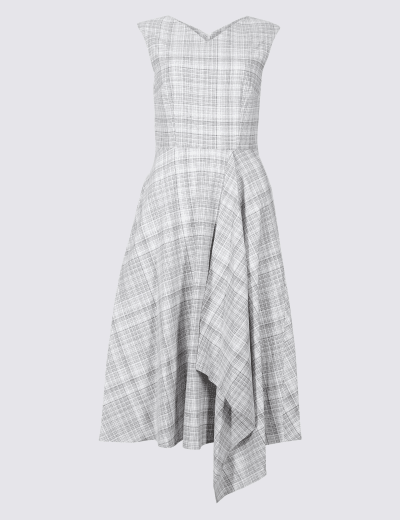 And for a close overall feel (getting close to a princess budget $$), try this Halston Heritage one shoulder dress is sage with front draping detail
Which dress are you choosing for when you ring your peace bell? I'm going with the BCBGeneration design for this one. A rare treat when the lowest price wins the day! How to dress like a royal: When being inspired by a look it doesn't have to be an exact match. Pick a couple elements and find a piece that evokes the feel of the garment. Buy a dress and ring a bell in it- look great doing it!