The royal family attended the hundredth anniversary service for the Royal Air Force, and Meghan turned the fashion dial up to max in a long sleeved, navy, fit-and-flare dress by Dior. I do not seem to attend many centenaries or Royal Air Force events, but I do go to the airport. And maybe at the airport I want to feel like our modern day Audrey Hepburn, which turns out to be Duchess Meghan. I will save the fascinator for after I debark the plane, however.
The Duke and Duchess of Cambridge and The Duke and Duchess of Sussex arrive at @Wabbey to attend a service marking the Centenary of the @RoyalAirForce today. #RAF100 pic.twitter.com/pLibSjzQ10

— Kensington Palace (@KensingtonRoyal) July 10, 2018
What makes this look royal
The fit and cut of the dress is everything- no embellishments
Except that FASCINATOR
Picks for a princess
This long sleeved black dress by Rani Arabella features a bateau neckline, long sleeves, and a flared skirt. It is simple, classy, and beautiful, but it also costs several times more than my flight.
Picks for a peasant
A pricey peasant-pick, maybe more for a lady-in-waiting, but a stunning alternative to the look we seek to emulate. This dress is fully princess perfect with the bateau neckline, long sleeves, fit-and-flare, and midi length. So flattering I can hardly stand it!
This pick from Asos is a navy, midi dress with a bardot neckline (I think I see a neckline lesson coming in our future). At this price, this dress is a steal- pick it up to wear to weddings this year.
This Free People dress is a more casual take on the look. A look I might actually sport at the airport. Longer dresses are great for travel days because no one actually wants to touch any surfaces on an airplane. This dress could easily be dressed up or down to add versatility to your wardrobe.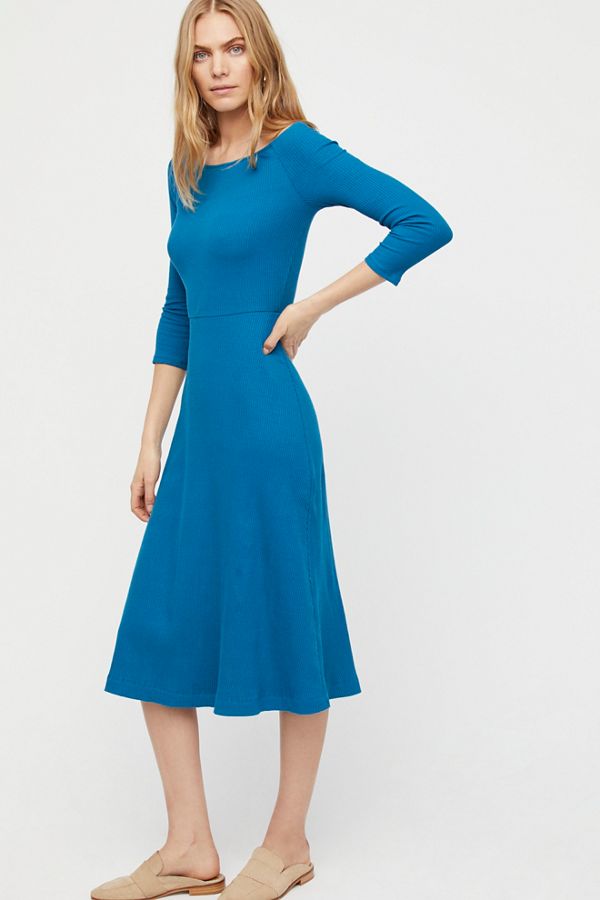 Fascinators
Fascinators are actually quite easy to find and inexpensive! Remember to match your fascinator color to your dress color. No navy dress with a black fascinator. Another great place to find a fascinator is Etsy. If you are having trouble finding a fascinator for a certain look, Etsy sellers are often willing to work with you to customize pieces as well. Etsy is about craftsmanship and the sellers love creating their items.
How to dress like a royal: Keep it simple. Understated. Maybe the dress that looks a little boring on the hanger looks GREAT on you. Everything except your hat. Feel free to go CRAZY with that fascinator pick.
Comment with your favorite Duchess-inspired look from this post. I'm choosing the navy Asos dress and am heading over to Etsy to find my fascinator. September weddings here I come!